About us
Radha Kishan Colour World is one of the most prominent and reliable Manufacturers, Exporters and suppliers of the wide variety of Color Powders(Gulal) and other Colors related festive items. We are certified by FSSAI , ISO 9001:2015 , ISO 14000:2015 , OHSAS 18001:2017 to cater diverse demands of our customers from all over the world by offering color powder manufactured and processed for their suitable requirement. With the huge area of industry we have gone through the backward integration for each of our products which includes manufacturing of some of the raw materials to bring down the cost of the final product and to cater the best in the industry. We have carved a niche for ourselves in the industry as a high-flying name in the industry. We have installed upto-date technology for the fast processing of the products. We use premium-packaging material to deliver the products and to circumvent loss during transit.
Our vision
To be the biggest Color powder company around the globe by providing it's customers the value they deserve and to see the world colourful as to inspire friendship bond – Both in the Air & on the Ground.
Our Mission
We take pride in working together to provide great-quality COLOURED POWDERS of outstanding value to delight customers throughout all of Global Market. Serve our colourful products to add value and reach to everyone and make not only businesses but also relationship with everyone who wants this world to be more colourful.
WHY OUR COMPANY?
1

Directly Dealing with the manufacturer , So Best price and quality assurance.

2

Quality Focus (starting from Raw material to finish goods).
Manufactured quality as per American and European Standards

3

Fully Automated machinery and plant ready for producing 50,000Kgs of colored powder per day, because of which less shipping time.

4

Private label manufacturing (your colour in your own packaging) & shorter delivery schedules

5

NonFlammable, Natural & Non Toxic. Any Color Shades & Perfumed/nonperfumed according to requirement.

6

Skilled employee to manage our system smoothly.
Supply quantity all around the year

7

Biggest and Leading Holi Festival products manufacturer. Known for India's no. 1 Holi Colours Brand "Cock Brand".
OUR QUALITY POLICY
• We are having our own quality control department which facilitates us to maintain our standard as per USA and European market. We believe in the best and provide No. 1 quality to our prestigious clients. We have assorted machinery for our manufactured goods which controls the quality from starting to end of packaging. Our skilled staff maintains our quality products and supply to all around the global market. We continuous thinking of our customers with provide better products need as per there specification. Our trained staff helps us to match the exact need and fulfillment it with our services. We always derived what we committed to our clients.
• Not only we care of quality but packaging is also major concern of our firm. Depends on the product characteristics and the customized requirements we packed our finish goods in a way that it reached safe and hygiene condition
• We always committed with our best efficiency and reach the goods in shorter span of time to our clients. We always match our quality which our clients demanding from us and do our best to fulfill their requirements. Guarantee and maintain the certification quality and security of colour powders is the first motto of our firm. We also maintain the technical specification and documents for each of our products
• Our quality is always customer focus. So we take care of requirements and satisfaction of the customers. Handling the customers complain, handle it properly and retained the customers. We are welcomes to join our company and get our power of colours to your customers.
CERTIFICATIONS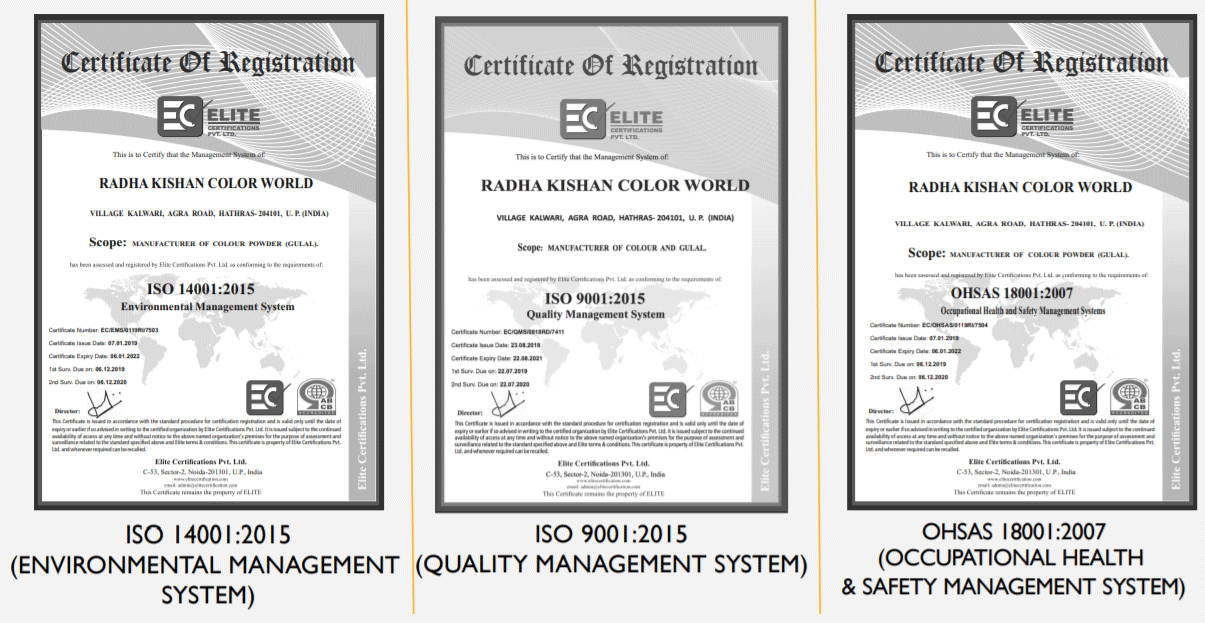 EN-71 CERTIFICATION ACCORDING TO EUROPEAN NORMS
• All our Colour Powders are certified according to EN-71-2 , EN-71-3 ,NTC Norms.
• For new products or developments the product is first tested according to buyers requirement so as to provide the customer hassle-free business with our firm.
OUR FAMOUS PRODUCTS
ON THE FESTIVAL OF HOLI PEOPLE OF INDIA CELEBRATE HOLI WITH OUR NICHE MURGA BRAND (COCK BRAND) WHICH IS FAMOUS BRAND IN INDIA WITH SUPPLY OF OVER 2 LAKH TONS OF COLOUR POWDER WE CAN SAY WE ARE MOST PROMINENT MANUFACTURER IN THIS SEGMENT.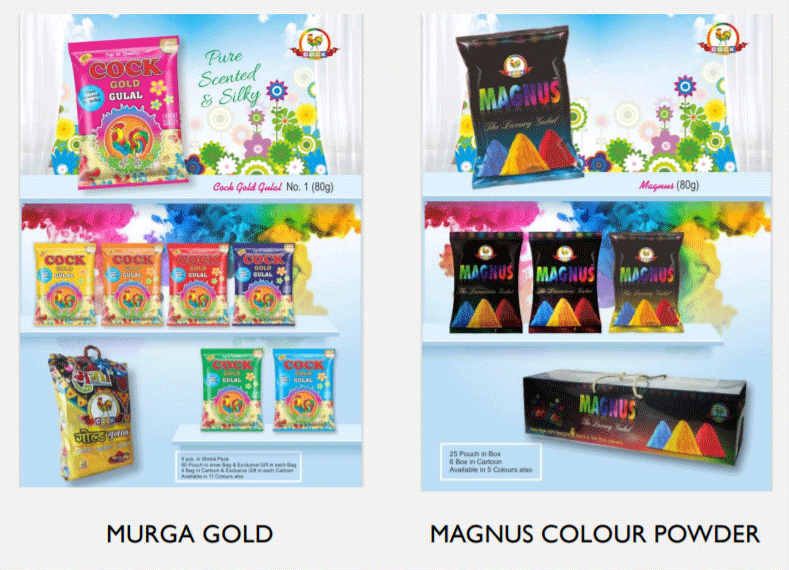 Our products
OVER 150 PRODUCTS IN OUR CATALOG
CAPABLE OF PRODUCING ANY COLOUR SHADES WITH ANY OF YOUR REQUIREMENT.
PERFUMED/NON-PERFUMED ACCORDING TO YOUR CHOICE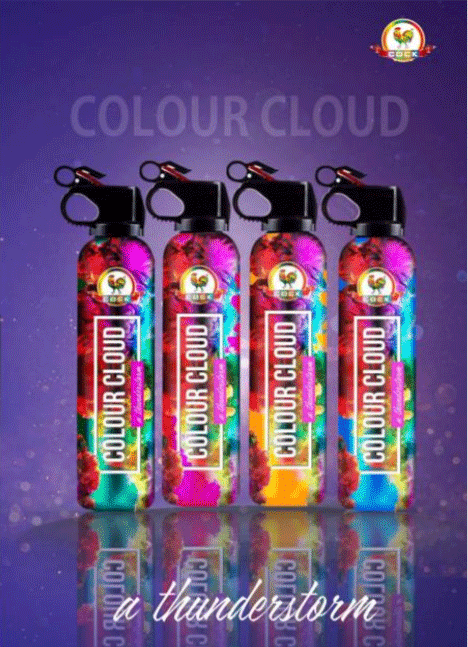 PROCESSING YOUR ORDER
1

RECEIVING YOUR PURCHASE ORDER.

2

PROCURRING THE BEST RAW MATERIAL AND PACKAGING MATERIAL AS PER YOUR REQUIREMENT

3

TESTING THE RAW MATERIAL IN OUR IN HOUSE LABS.

4

INGREDIENTS ARE BLENDED,GRINDED & DRIED USING FULLY AUTOMATED MACHINERY

5

FINISHED PRODUCT IS THEN TESTED IN GOVERNMENT RENOWNED LABS TO MEET THE INTERNATIONAL STANDARDS.

6

PACKAGING THE FINAL PRODUCT IN ULTRA MODERN FACILITY & AS PER YOUR REQUIREMENT

7

SHIPPED TO YOUR DOORSTEP.